On our Earth walk yesterday we saw dozens of trees covered with white blossoms so today for some kindergarten readiness fun and learning we made something white–popcorn.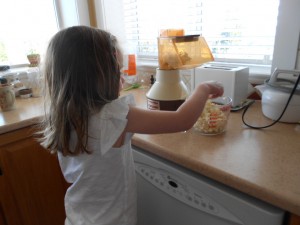 Popping corn is an activity that involves all the senses. We could hear the popcorn starting to pop and then more pops and more until it was quiet again. Then another one popped all by itself. The nose smells it all over the house. The eyes watch carefully for the first one and open bigger as the popcorn almost makes a waterfall. Best of all is the touching and tasting. Careful, it might still be hot.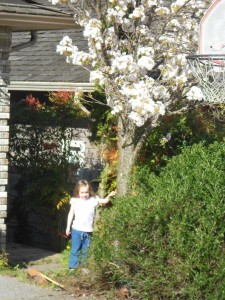 There is a wonderful song about popcorn popping on the apricot tree. It was written in the late 1950's by Georgia Wahlin Bello of Salt Lake City. She was inspired by her son who did indeed look out the window and say that. Lee echoed those same words about some neighborhood trees as she said "It looks like popcorn on the tree but it isn't really popcorn. It just looks like popcorn." When we came home after our walk we looked up some videos and listened to the song. Then we sang it too. For kids who are curious, it's a great time to talk about seasons and how trees change. This is what some do in the springtime. Are there any popcorn trees in your area that can blossom into fun and learning?
FREE ONLINE COURSE
Enroll in this free online course, Brain Power and Play for Young Children, to learn how to boost your child's brain power before kindergarten!