Exploring and discovering are part of play and through play children develop their kindergarten readiness. Kids love to pick up rocks and they love to play with water. Warm summer days are ideal for some water play outside. In addition to all the other toys, add a few rocks.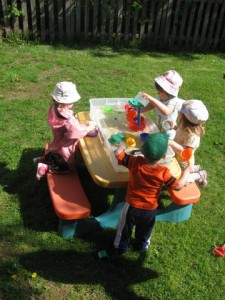 Little ones may notice all on their own that rocks will not stay on top of the water by themselves. They sink to the bottom. Down, down, down. Or you may ask your child if a rock will sink or float. Have your child try other rocks to see if they will sink or float too. (If you have a pumice stone, it does not sink like other rocks!)
Include some containers like small plastic cereal bowls. Ask your child if a rock will float when it rides in a dish. Did that work? Some kids will try 2 or 3 or more rocks all on their own to see how many will float before the container sinks. Other children may respond when they see an adult trying more than rock at a time. Will a rock pour? Will it go through the holes in a strainer? There's lots of fun science discovery just by combining a few rocks with water and other toys.
Kindergarten readiness develops as an extension of children's play. Experimenting with rocks and water is fun and learning at the same time. Does this activity appeal to your child?