TGIF and on Fridays lots of families prepare for weekend getaways. If your weekend involves travel with kids chances are you have things in the car for them to do. Here is an in case that is both fun and promotes all kinds of learning. Materials needed: 1 clipboard or plastic tray to hold paper, paper and pencils, markers or crayons–not wax crayons, tho; they melt in hot cars!  Tell your child that it's okay to copy down anything that looks interesting. It could be highway numbers, road signs, names, cool shapes and colors on billboards, licence numbers, pictures from trucks and vans, the shapes of buildings and houses, bridges, trains, rivers or lakes, letters, windows, things they see on ads to eat or wear or buy, whatevers.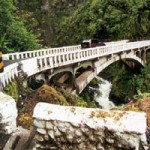 Kids notice the oddest, tiny details, especially of things we would prefer that they didn't see, which does prove that they are watching. Observing, naming, wondering, making connections, letters, numbers, shapes, colors, vocabulary, language, fine-motor skills, visual focussing, recording, and questioning are only some of the skills and strategies children use in this activity. This may only appeal for a few minutes but those minutes done a few different times add up to a whole lot of learning for a child. More deposits in their learning brain-bank accounts.
Could this be fun for your family?