Christmas and holidays have been wonderful and now that the excitement is wearing off and the routine is returning, logically shouldn't kids be more settled and calmer instead of driving you crazy? While adults may be breathing a sigh of relief, kids do not yet have the same skills to control their emotions and this is something to support for both their kindergarten readiness and life-skills learning.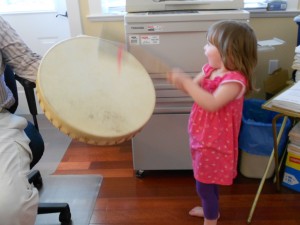 For kids, there has been a lot of stress this month. Some activities have been positive and fun, and some have been disruptive and difficult. Just think of the build-up to Christmas, the toys, visits with Santa, friends and family, lots of attention, different meals at odd hours, various bedtimes and possibly unfamiliar places to stay. This has all accumulated and kids are overexcited and overstimulated.
One way to release tension is through wild, loud activity but this isn't the best solution. Instead, we need to help children find some acceptable ways to unwind. Here are some suggestions:
Some time at the playground or a community pool or gym can give your child an outlet for all that energy.
Switch on some fast music at home and you and your child can dance and dance. Gradually, slow down the pace and change to softer, quieter music.
If you have a big drum–and some earplugs–your child can beat out some of the tension.
Run some water in the tub or the kitchen sink and let your child measure, pour, and stir. Water is very calming and you will notice your child becoming more relaxed. When needed, there is no rule that limits bathtime to once a day.
Nature can also help kids reconnect to their quiet side. A long walk or hike in the park also reconnects them to nature.
General development and early learning includes self-regulating skills and strategies. Kids do not come with these already in place, we need to help them learn how to calm themselves and release tension in acceptable ways. Some form of inside or outside physical activity is very effective.
Besides being overexcited and overstimulated, kids may also be overtired. A solution for that is a nap. For grownups, too! Could you use one?