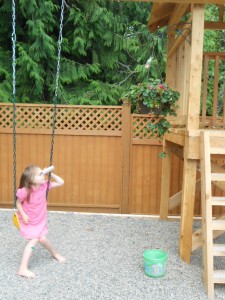 I Spy is one of the most adaptable games for playing with children. It can be played by any number of people, of any age, at anytime, and in any place. For today's play-of-the-day, how about some I Spy fun and learning outside?
We started our I Spy play by making some toilet paper roll binoculars. To make a set, clip, staple, tape, or glue  2 together. Punch a small hole near the top on each side, and attach some string. Once we had a set each for Big Sister and Little Sister, off we went to see what we could see.
(Because string or yarn around the neck can be a safety hazard for kids, I use some that breaks easily and tie just a loose knot.)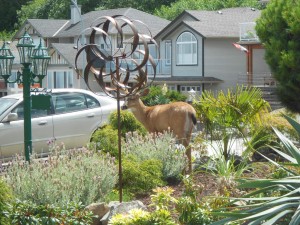 We checked the sky, the clouds, and some trees in the neighborhood. We looked at the sidewalk for ants or other bugs. There were some flowers, some rocks, bushes and other things to see. The neighbors have a wind spinner that looks like a flower, especially if there is a breeze. Standing just behind the wind spinner, a deer was enjoying some of the plants in their yard. From our angle, it looked like the deer had twirly antlers!
This game can have countless variations. Kids can look for something that is all one color, or a particular shape. They could check to see if they can "I Spy" some animals. Not only are kids practicing their observing skills, they are also using lots of language as they talk about what they are finding. The deer with the wind spinner antlers was quite a story to tell.
Time outside is important for children to connect with the world around them. An "I Spy" activity can turn a walk into an adventure of exploration. Can you and your child have some outside fun and learning with an "I Spy" adventure in your neighborhood?