Young children need to develop muscle strength and coordination and grow confidence. With opportunities, kids discover using school tools is fun, not scary. School tools can loosely be described as crayons, pencils, scissors, glue, paints, brushes, markers, and paper.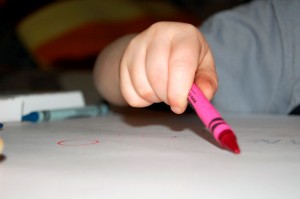 Once you have crayon-proofed, perhaps that should be kid and accident-proofed an area, let your child enjoy coloring with crayons, markers, and chalk. Big crayons are easier to hold than little ones.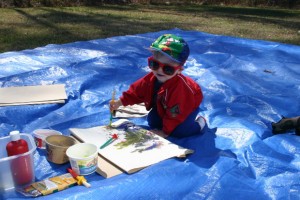 Brushes and paints are also fun as are color dabbers and even q-tips. Food coloring diluted with water is another way to apply color to paper. Speaking of paper, old wrapping paper is blank on one side and even cereal boxes are good and sturdy for coloring or gluing.
Glue comes white, clear, colored, premixed with sparkles, and even glow-in-the-dark, everything it seems but easy-close. Glue sticks and liquid glue both seem to have challenges with lids. With kids, sometimes the challenge is not to have more glue on them than the project, but kids enjoy activities with glue.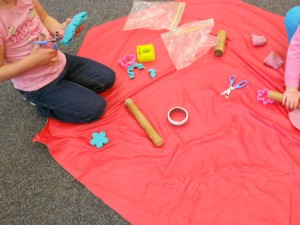 Scissors are tricky to figure out. Did you know playdough is super easy to cut? For hands and brains that are learning to coordinate, play-dough is exceptional. Plus it can be put back together and used over and over. Not just cutting, but rolling, smoothing, patting, poking, and smooshing give small muscles lots of exercise.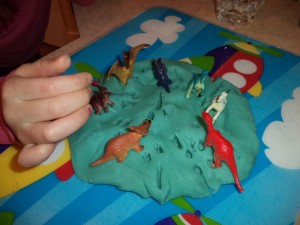 Some children are more interested in using tools than others, but having a variety of materials for them to explore makes them more appealing. For children who are resistant to small-muscle activities, as opposed to the large muscle ones like running, jumping, chasing, climbing, etc, you can sweeten the activities by matching their interests. Have a child who loves dinosaurs? Read about them, and then maybe make some dinosaur prints in playdough.
Every occupation and career has its own set of tools and play is children's work. Besides encouraging the development of physical skills, tools also encourage practice problem-solving, planning, making choices, following instructions, and other skills. They also give children an opportunity to be creative and divergent thinkers. Kids learn the vocabulary that relates to tools and have the chance to show and tell and explain what they are doing. Could fun with tools be part of your child's play?