While Lego bricks are hard enough to last for decades, they are flexible for all sorts of play. Here are some suggestions for fun Lego Halloween activities.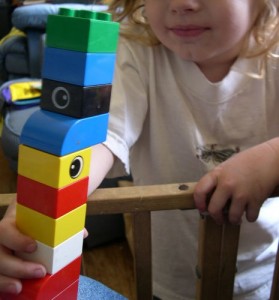 Kids of any age, except the really young ones, love Lego and Duplo. They can be used in so many different  ways. A monster is a great place to start because it can be any size, shape, or design. Monsters can be fairly simple or very elaborate, depending on children's interests and involvement. A monster may happen in one session or over several days as kids add and change to their creations. If there are enough blocks, kids may want to make several different versions of monsters.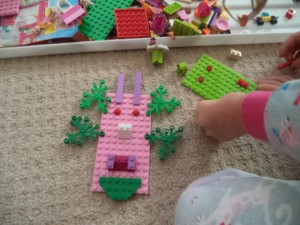 With the flat plates, it's possible to make monster or witch faces. The transparent red circles used for lights on vehicles are very effective as eyes. Monsters don't need to have 2 eyes, 1 nose, and 1 mouth. They are monsters, so there could be several of each, in all sorts of places. Not all Frankenstein's have green faces, this one is pink.
There are some Lego and Duplo Halloween figurines, but kids might want to make their own zombies, witches, goblins, and other Halloween creatures. While there are plenty of red bricks  to make a candy apple, apparently, there are even orange bricks for making a pumpkin. Too bad garage sale season is mostly over, or I would haunt them looking for the orange ones.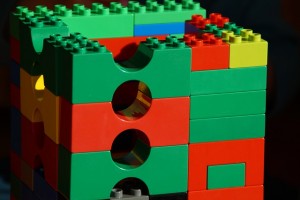 Another idea is a haunted house or maybe a whole town. Haunted houses don't just have to be made with Lego. Kids may want to play with other construction toys as well, such as wooden blocks.
As toys, Lego and Duplo are quite a treat. The trick is not to step on them, especially in bare feet. It seems to be some sort of initiation ritual for parenthood. Have you been there and done that?