Series Part #3: Books to Help Start Kindergarten
No matter if your child is starting kindergarten this year or not, there are some wonderful stories to help your child start kindergarten. Clifford the Big Red Dog, Curious George, the Berenstain Bears, Franklin, Pete the Cat and other well-known characters have stories about this adventure. Some parents may remember the Sesame Street one called Grover Goes To School. There are dozens more new ones that talk about the same thing: going to kindergarten.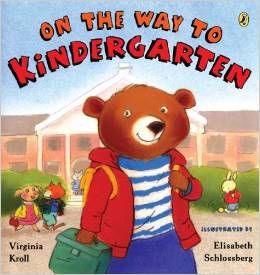 Not all children like the same kind of story, so it's a good thing there are so many different books. Several have animals as the characters instead of people. Some use a rhyming text and others use conversations, or questions and answers. One book that I quite like, On The Way To Kindergarten, by Virginia Kroll and Elizabeth Schlossberg, includes what children were like at different ages and stages. The story reminds kids that every year they knew how to do different things than the year before and that kindergarten is both a new adventure and part of the process of growing up.
The story, The Kissing Hand, written by Audrey Penn and illustrated by Ruth Harper and Nancy Leak, has wonderful soft pictures of an anxious little raccoon who would rather stay at home. Mother Raccoon shares a special kiss that helps Chester. Of course, because raccoons are nocturnal, Chester goes to school at night and stays home in the day, but his solution can help human kids too, and mommies and daddies that will miss their little ones.
Bookstores will have lots of stories, but many libraries will have a selection that you can borrow instead of buying. Preschools and daycares may have some that families can take home for a night or two as well. Plus, using stuffies or figurines at home, you and your child can make up stories. How about The Dinosaur Goes To Kindergarten? Here is a YouTube video of The Kissing Hand. Do you have other book suggestions?