The early years between 0 and 5 are crucial for learning and parents are children's first teachers!
But how can you support your child to be a powerful learner?
And why is early learning so important anyway?
Because 90% of the brain develops by 5 years of age.
Because the years before kindergarten starts will impact your child at school and beyond.
What can you do? It's as easy as 1…2…3…
1. Watch the video, then…

2. Sign up for more info!
3. Visit on Blog: Play-of-the-Day for a daily readiness idea that you can do in just minutes with your child. For a developmental checklist that you can use to assess your child's kindergarten readiness and early learning tips, fill in the boxes → and click "Is My Child Ready?"
After using the kindergarten readiness checklist, did you find some areas of challenge for your child? Do you want to know how to support your child's development?
Many parents ask questions about preparing a child for kindergarten. In this book, I've taken those same questions and answered them, including tips, suggestions for activities, and stories of children and families. To support children's development there are ideas for activities that you can do at home, without having to turn it into a preschool center! Now in its second edition: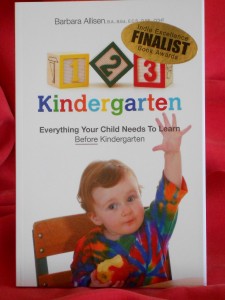 112 pages of easy-to-read and easy-to-do tips and suggestions for helping your child get ready for kindergarten. Includes a kindergarten readiness developmental checklist and rating scale. Illustrated and informative, loved by parents, grandparents, teachers, daycare providers, and community resource centers–and kids.
Mrs. A, I love your book. What a fantastic resource! K. P.
…I need 2 copies so I can loan 1 and keep 1! S. L.