Did your Cookie Tree grow? (see Growing a Cookie Tree post in March) Well, at Easter I like to have lots and lots of Easter eggs. I saw a picture of an Easter Egg tree and wondered how I could have one for my yard. I bet the people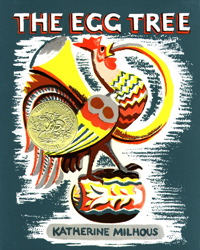 planted a bird's nest and it grew into an egg tree!! Let's try that!
Science can be exciting and fun! While planting and growing things are not specifically part of kindergarten readiness, discovering and experimenting are part of learning from the moment children are born. Readiness for kindergarten includes all kinds of learning experiences and experiments. For this one, if you can't find a nest to plant, plant an eggshell. That might grow an egg tree, too. Add a little water and sun. At the very least, kids will be practicing a little patience from now until Easter but there are other skills, too. Questioning, wondering, observing, and connecting different bits of information are just a few. Oh, and a sense of humor! Isn't this a good yolk?