With Easter coming up, use a few Eastery items for some learning fun. If they are in short supply at your house or care center, you can use the idea with any other materials.
Number sense develops gradually, building on all kinds of experiences. Counting is the first strategy that develops and is part of kindergarten readiness, too. Find a container that can be a basket and use blocks, lego, plastic spoons, jar lids, even socks, as pretend eggs. You and your child can be the Easter bunnies and put some of these 'eggs' into the basket. For example, say to your little one: "Okay, Bunny, put 3 eggs in the basket," etc.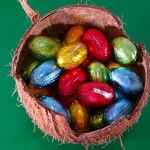 Try lots of random numbers, as appropriate for your child. If your buunykin is comfortable with counting, try the flipside where you put the 'eggs' in the basket and s/he tells you how many there are. As adults we would think the two activities are the same but they are different skills: one is counting, one is identifying. Many children will still count to figure out how many are there but these kinds of experiences help children link number and quantity as well as promote readiness for kindergarten.
Q. How many eggs can you put in an empty Easter basket? A. Only 1! (then it isn't empy anymore) What other Easter things can kids count?