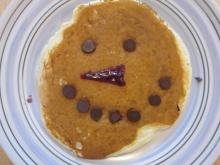 Pancakes on a Saturday…learning and tasty! At our house, with more time for breakfast, we sometimes have pancakes. When I saw this snowman pancake post on The SEEDS Network, I thought of ways to include some counting. Using chocolate chips for features, kids can count out a specific number for a grownup to put on. They can also count as grown-up hands add items to the pancakes. Other things to use might include banana slices or frozen blueberries. Coconut is a bit tricky to count but it's yummy too.
Besides coconut for a white snowman, spread round pancakes with vanilla yogurt instead of syrup. Vanilla ice cream will not make it snow.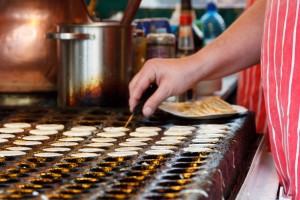 There's lots of ways to use math when cooking. Counting and measuring in an everyday activity increases kids familiarity and comfort with numbers. We do not want kids to be anxious about math so add it as an extra ingredient. They will accept math as something ordinary and natural and build readiness for kindergarten as well. Eating can gobble up some math. If your make pancakes this size ask your child "How many can you eat?" How do you like to cook your kindergarten readiness pancakes?
FREE ONLINE COURSE
Enroll in this free online course, Brain Power and Play for Young Children, to learn how to boost your child's brain power before kindergarten!