School starts for many children right after the long weekend in September and many parents and caregivers are asking "How can I help my child transition from home to kindergarten?" The answer to that question can be lots of fun!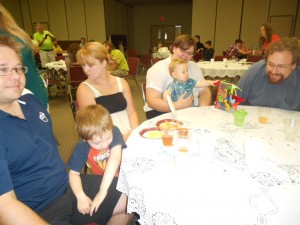 This weekend I was at a family reunion for a 50th wedding anniversary. There were cousins and other relatives that I hadn't seen in years and many new additions to the family. We had many discussions about whether new babies and little kids looked like their mothers or their fathers. While the adults greeted each other and visited the kids ran around except for the times when they were introduced to relatives that they won't even remember in a day or two. Celebrations such as this provide children with an opportunity to practice social skills in a safe, comfortable group. Family events can be overwhelming, but there are usually lots of adults that sound and look sort of familiar. Kids can be fairly independent of their parents with other grownups to keep an eye on them too.
When children begin kindergarten, meeting all those new people and having so many in one place is quite a challenge. There are more kids than adults so children need to be fairly independent. These kinds of occasions are a sort of dress rehearsal for kindergarten. They are a bridge or transition from the small family unit to kindergarten. Not every family will be having a major event but there may be other possibilities in your community for giving kids the opportunity to try their social skills in a bigger group in preparation for kindergarten. Kindergarten readiness activities like this are great for fun and learning. Are there some family or community events that can help children transition from home to school?
FREE ONLINE COURSE
Enroll in this free online course, Brain Power and Play for Young Children, to learn how to boost your child's brain power before kindergarten!