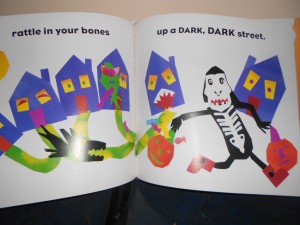 Are the kids getting plenty excited about Halloween? To channel that enthusiasm how about some big muscle movement activities for fun, learning, and kindergarten readiness? Followed by some calm, quiet ones?
At a recent book sale, I found an inspiring story for different ways to move, called Twist With A Burger, Jitter With A Bug, by Linda Lowery and Pat Dypold. The whole book has a catchy rhythm and rhyming text that just begs readers to dance along. So, find some fun Halloween music and kids–and grownups–can boogie, twist, jive, hop, shake, scurry, flit, and dance all around!
One piece of music that invites lots of different ways to move and is not too scary for young kids, despite its name, is Danse Macabre. There are lots of fast parts, crashing cymbals, and some soft, slow sections just right for sneaking without making a sound. In a big, safe place kids can pretend they are any Halloween or other character. You can also ask your child how a witch might move, with or without her broom. She would swoosh and fly. How about a skeleton? Shake, jiggle, rattle those bones. Cats stretch and curl, walking on all fours. Try zombies, bats, ghosts, and goblins. Monsters take very big steps, if they have long legs, that is. After lots of moving…sit and rest like a pumpkin.
Movement activities are not just important for developing muscles and coordination. They also form pathways and connections in the brain that are used for thinking and reasoning. A large part of learning for young children is exploring how the body moves and its position in space. Halloween has a tremendous variety of choices for ways to have fun moving.
To help kids calm down, besides sitting like a pumpkin, you can suggest moving like something slow, such as a turtle. Or use some magic words and put a spell on them so they can only move in slow motion. The magic spell might turn them into trees so their arms move, but not their legs. Bats and owls sleep during the day, so kids can pretend they are either one. And maybe take a nap?
FREE ONLINE COURSE
Enroll in this free online course, Brain Power and Play for Young Children, to learn how to boost your child's brain power before kindergarten!