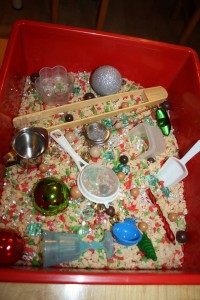 In order to interact with the world and each other, we all use our senses. For children, sensory information helps them learn and develop, and sensory play, with items in a tub or bin, supports kindergarten readiness.
Cheryl Weatherhead, at Sunhill Montessori has created another sensory tub or bin, similar to the one she did for fall, but this time for Christmas. The red and green rice krispies are so colorful and inviting. Big wooden beads, some acrylic treasures, and unbreakable colored ornaments are different sizes and shapes. The icicle and wooden pine tree are bumpy and contrast with the smoothness of the other items. Bows and fuzzy balls are also good choices for touching and feeling. There are spoons, a sieve, scoops, a flower dish, cup, and other small objects. The tea strainer that opens when squeezed and the wooden tongs strengthen the small muscles in the hand and wrist.
Children will play with these sensory materials in different ways:
One of the obvious invitations to play in this bin is to scoop, fill, and pour. There's lots of discovery just in filling and pouring, because the different materials will act in a variety of ways. Some things will pour in a stream, others will roll and tumble out. The heavier items will make a much louder sound than the lighter ones.
Hands get to explore different ways to hold and pick up the objects.
Some children may sort out the objects and make groups, such as all the small wooden balls or all the big Christmas ball ornaments. It's like an I Spy or treasure hunt in a tub.
The colors of the items are appealing. The shiny, sparkly objects attract the eye right away.
There's an astonishing number of different textures with just a few items. Not only do fingers get exercise feeling them, the brain gets exercise thinking of the words to go with the textures like smooth, or heavy, or scratchy, or bumpy. In addition to textures, the items will have different weights.
Kids will also imagine as they play. They may pretend the icicle and tree are real. Perhaps, they will imagine they are elves in Santa's workshop.
These are only some of the ways that kids will engage with the materials in the sensory bin. You may see a child doing the same actions over and over. Older and younger children will play in different ways. The play will both vary and be similar, depending on the child's needs and intentions. What could you use to make a sensory tub or bin for your child?
FREE ONLINE COURSE
Enroll in this free online course, Brain Power and Play for Young Children, to learn how to boost your child's brain power before kindergarten!