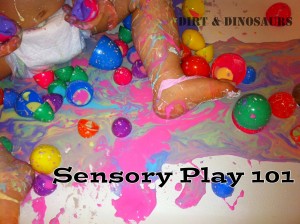 In a way, this post is like saving the best for the last–last day of the month that is. And what better way to finish this month of sweet treats and lovely messages than a favorite way to play for fun, learning, and kindergarten readiness: Sensory Play!
In a group of parents and caregivers concerned about early learning and development, one of the parents asked: Can someone explain the importance of sensory play? Fortunately, Katy (Katherine Tochtrop DeFonde) had a super answer:
"Children are hard wired to learn through sensory input from day one. By providing frequent opportunities for sensory play you are helping their brain build neuro pathways for later learning. At it's basis, sensory play is the earliest scientific process your child will encounter. They have formulated a question, hypothesized an outcome, experimented, and made conclusions all without being able to verbally communicate it to you."
Katy did an entire blog post about sensory play on her site Dirt and Dinosaurs. Basically, sensory play is an activity that stimulates the senses of touch, hearing, sight, smell, and taste. We know that kids especially love to touch and feel.
She gives some great ways to include sensory play as a "magical reset button…that has the ability to refocus our energy and feelings in a safe and positive way.
Just roll out a wrapping paper runway to run, crawl, hop, and giggle that energy out. Now it's a thunderstorm, then a cave, next a blanket, a magic carpet and more.
Cranky, over stimulated, or anxious kids? Time for some lavender rice to help mellow out.
In a funky mood? Drop some glow sticks in the bubble bath, dim the lights, and crank the tunes.
Kids not getting along? Sensory play. Bored with their same old toys? Sensory play. Mom is running out of ideas? Sensory play."
Sensory play can happen in a plastic container or use a whole backyard. It can be "messy, clean, or somewhere in between." Katy also mentions other benefits of sensory play, such as adaptable for the age, abilities, and interests of the child and allows the child a measure of control. Sensory play can help overcome developmental delays and extend learning opportunities. Some items used at their house are goop, shaving cream, washable paints and jello.
Sensory play also gives parents and caregivers some measure of control. You get to be creative about items that your child can use. There is a caution though: once you have tried it a few times, you'll start saving practically anything and everything to use for sensory play. But there is another great advantage. With this type of play, even clean-up time with water and soap is sensory! Can your days include some sensory play.
***Thank you so much, Katy, for this wonderful writeup about sensory play and the photo from Dirt and Dinosaurs. Will you come back and play another day?
FREE ONLINE COURSE
Enroll in this free online course, Brain Power and Play for Young Children, to learn how to boost your child's brain power before kindergarten!