When we become parents, we all wish that we had a magic wand to conjure up a wonderful childhood for our kids—as well as some sleep for us, but that's not exactly the reality. However, there's another sort of magic which we can share with our kids, and that's the magic of books.
A Book is Like A Magic Wand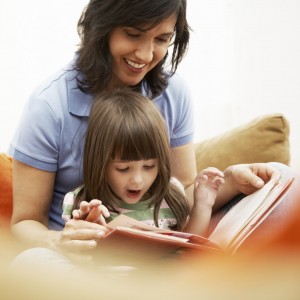 Yes, we live in a digital age but physical books involve children to a far greater extent than stories on screen. A book is an entire self-contained unit. Kids can see the pictures and the book as a whole. The story seems to begin at the front of the book and ends at the back, but it echoes in the mind over and over. The pictures and words do not change, they are always and predictably the same. Kids learn that the book is not responsible for any changes and can correct tired parents who try to skip over parts of the story or make mistakes. That's just part of the magic.
The story itself can cast spells and transport us through time and space. Children see strange animals and plants in books places in the world they may never see. They can visit other people, in the past and the future. They can travel to outer space and explore under the sea. What we can do and where we can go is limitless in books. Reading and sharing books and stories with kids is one of the most valuable activities of childhood. And anytime grownups want to reconnect with the magic, all they have to do is open a book. Is there a book that immediately reminds you of your childhood? Once upon a childhood…. What would you write for the next line? What would your child?
FREE ONLINE COURSE
Enroll in this free online course, Brain Power and Play for Young Children, to learn how to boost your child's brain power before kindergarten!