Kids love to play outside in the summer and so do grownups. Where we live, there is a super fun Maritime weekend, where the adults race bathtubs on the ocean. Since kids are not old enough for such a crazy activity, how about some fun and play building boats? The recycling bin at your house probably has dozens of items that could be used for making boats, such as styrofoam trays and containers, corks, plastic and metal lids, popsicle sticks, empty water bottles, etc.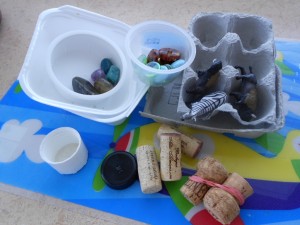 With a big tub, bin, or container of water outside on the deck or lawn, kids can make boats and experiment to see if they will float. Elastic bands help attach pieces together. Kids are natural scientists, exploring constantly, so making some boats that float is a voyage of discovery, fun, learning, and developing skills for kindergarten readiness and beyond.
This activity kept Big Sister busy for a long time as she tried many different combinations. Little Sister is pretty good about not putting things in her mouth and loves water play too. She mostly liked to just put things in the water and wasn't really interested in making boats. Kids will play at their own level and investigate what interests them. Lego and pasticine will also work to make boats, but the plasticine needs to get dried off so it doesn't get gooey.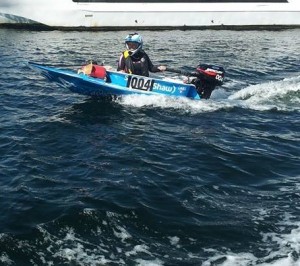 Everyday children are trying and figuring out how things work around them. This is what scientists do. We can extend their play by talking with them about what they see happening and asking questions. What way do they have to put things in the water so they will float? Can they put anything in their boat before it sinks? What happens when there is too much in a boat? By asking questions and inviting kids to explain to us, we encourage them to attach words to what they are discovering.
Who knows how fun with boats might grow for kids? Would you race a bathtub?
FREE ONLINE COURSE
Enroll in this free online course, Brain Power and Play for Young Children, to learn how to boost your child's brain power before kindergarten!