Horton Hatches the Egg Inspires Play-of-the-Day
It's appropriate Read Across America Day happens on Dr. Seuss's birthday. The celebration can be Pole to Pole if all of North and South America reads too. This will be the first post in a whole series of ways that a story can be combined with another activity so that reading inspires a play-of-the-day.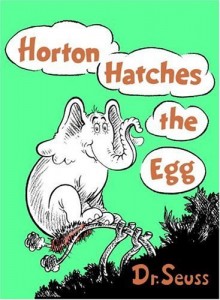 How about starting with Horton Hatches the Egg? First, read Horton with your child. (If you can't find a book, there's a video included below at the end of this post.) Next, have some fun with eggs. Of course, this story is about hatching an egg, but not all eggs can hatch. Some eggs are for hatching and some are for eating or decorating.
How do you like to eat eggs in your family? Perhaps, you and your child can make some scrambled eggs for lunch. Once adult hands have cracked the egg in the bowl, little hands can stir them up with a fork. Boiled eggs don't need any cracking and once they have cooked and cooled, you can show your child how a cooked egg will twirl round and round but an uncooked egg doesn't. Experiment with some different ways to peel an egg and find which one works best. Of course, grownups need to do the cooking part but everyone can gobble them up.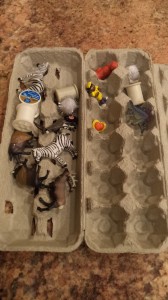 Egg cartons are fun for all sorts of activities too. As long as your child is past the everything in the mouth stage, one of the simplest is to give your child an empty carton and an assortment of little items. Kids can put one item in each empty space. This is called one-to-one matching and is a critical concept for number sense: one number means one thing. Or kids can fill up a space and then count to see how many items a space can hold.
These are just a couple of ideas. For some science fun, name animals that lay eggs. Maybe hatch some dinosaur eggs. For art, squeeze a paper toll just a bit to make an egg shape instead of a round one and use it to paint. Horton had to just sit, but kids don't. Move around like an elephant and a bird.
Have an egg-citing day!
FREE ONLINE COURSE
Enroll in this free online course, Brain Power and Play for Young Children, to learn how to boost your child's brain power before kindergarten!