Blowing Bubbles for Easy Science Fun
Science fun for young kids can be easy, simple, and ordinary. Unfortunately, many of us avoid doing science with kids in case we make a mistake or a mess. But kids are natural scientists, exploring, discovering, and experimenting. We can build on what they are already doing.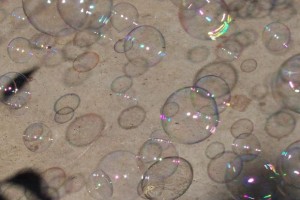 During warm weather, a favorite science activity is blowing bubbles. Bubble solutions are often available at dollar stores or there are dozens of recipes for making your own bubble solutions at home. Bubble wands can vary from sticks with one small circle or oval at the end to ones with several shapes of different sizes. No matter which one kids use, it's quite magical when the water changes to a shimmering round rainbow floating in the air.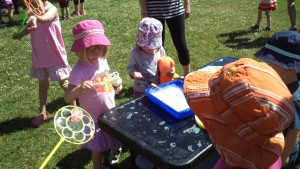 There are so many things that kids learn as they play with bubbles. Kids not only figure out how their actions can cause a change, they have to test their actions over and over so they know how soft or hard to blow. They discover how to hold the bubble wands and move their hand and arm. Some bubbles pop right away and some last long enough for chasing. Just like grownup scientists, kids are observing, problem-solving, testing, and predicting.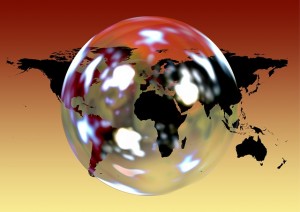 Scientists are smart adults so, if kids are natural scientists, are they naturally smart? The answer to that is a very loud Yes! According to the authors of the book "The Scientist in the Crib", scientists and children "…are the best learners in the universe." ( Gopnik, Meltzoff, Kuhl, 2009)
The future of the universe, or at least our part of it, depends on kids. That's why it's so important that we support early learning. Having fun with science is one way we can do that. Can blowing bubbles be your science fun play-of-the-day?
Check back for more blog posts with science fun for young kids.
FREE ONLINE COURSE
Enroll in this free online course, Brain Power and Play for Young Children, to learn how to boost your child's brain power before kindergarten!