At Halloween, ghost stories are traditional but extra scary. Telling stories is another way to explore and create with language, use special vocabulary, help kids practice putting events in order, visualize and imagine, and more. Kids learn to use clues to figure out what is real and what is pretend. These are all great skills for kindergarten readiness. What other kinds of stories then can we tell to and make up with little ones? Just about anything. Here's some ideas to get you started.
Once upon a time there was a witch who had a very mixed up broom. When she wanted to fly up the broom went down, when she wanted to fly down the broom went up. One day she wanted to go visit her friend but …
Once upon a time there was a skeleton who liked to dance. He liked to shake and twirl and jiggle his bones. But sometimes he danced so hard that he just shook himself all apart. It wasn't easy getting all his bones back in the right places. He needed an idea…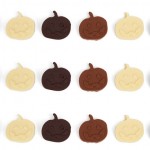 Stories have the advantage that they can be told anywhere: on the bus, waiting in line at the check-out, making supper, even in the tub. While some people call stories a language bath, I like to think of them as a deposit in kids language accounts. The more deposits, the more experience kids have with language and the better prepared they are for learning. 
 Since it's Halloween, maybe, could we say that stories are brain treats? (P.S. This is a photo of mini-chocolates. Mmm.)