The words, "I can't draw," are more likely to be said by adults because we are focused on the product. The story is quite different for drawing and kids. For children, it's the process that's important because drawing is another way to play.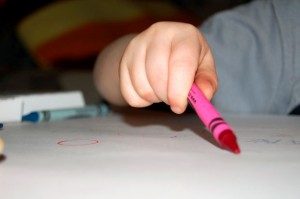 If we think of crayons, markers, chalk, and paper as another kind of toy, then it's easier to encourage kids to simply have fun. Once we know the walls and floors are safe, we can let children discover what these toys can do and how they can play with them. Drawing can be empowering, because suddenly kids are able to 'make a mark' and affect the world around them.
Drawing supports the development of many brain connections and thinking skills. As children draw, they are representing what they see as well as what they imagine. Creating pictures on paper helps visualizing, or making pictures in the mind.
Some adult artists have added an element of fun to encourage more drawing with two challenges. One is called Drawlloween and the other is Inktober. The intention is to check the word for the day on October's calendar and to draw whatever it is. You can make a calendar with your child. Ask your child what things might be fun to draw. The suggestions do not have to be for Halloween, they can be anything.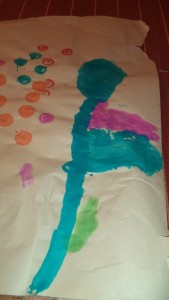 Because we had just been looking at some costumes, Big Sister thought of drawing some ghosts. Little Sister asked if she could paint  instead. I wondered if the drawings would be invisible like ghosts, but Big Sister used a pen and Little Sister painted one that is blue and pink.
Drawing is not something that we can or can't do. Like other abilities and talents, some people are better at drawing than others, but we can all draw to some extent. Some children will be more interested than others, but all children can explore with drawing tools and toys. For a play-of-the-day, what would your child like to use for some drawing fun?