How about some draw and color holiday fun for kids? Set out some crayons or paints and plenty of paper. There are coloring books for grownups now to relieve stress and tension, so you may want to join kids at the table or on the floor and color too. Sometimes, tables and floors need some extra paper or plastic so they don't accidentally get colored too.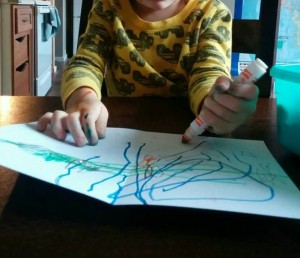 Holiday time comes with lots of ideas for things to draw and color, some easier for younger kids and some more challenging for older ones. Lines are easier to draw than circles, which take a great deal of muscle control. Toddlers may want to cover a page with lots of different colored lines and scribbles. Use stiff paper, fold it in half and it becomes a card to send in the mail or give to someone special.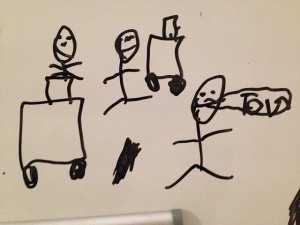 Candles are fairly easy shapes to draw with two straight lines and some bright colors to be the flame. People are basically lines and circles and they can be doing so many different things, like a little holiday shopping. One person is also talking in this picture. Pictures are another way to represent what's happening in their world.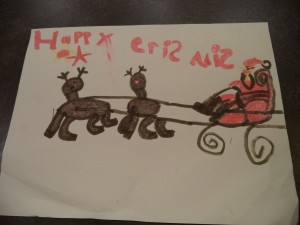 When children draw or paint, hands aren't the only things that are busy. So are brains. Not only do kids need to control the small muscles in their hands, wrists, and arms, they also have to coordinate the picture in their mind with what's happening on the paper. They concentrate on what they are doing, pay attention to some things like how much pressure to put on the brush or crayon and ignore other things, such as the background sounds of traffic.
Children's art will not always be something. Kids simply like to create, to try different actions. We can invite kids to talk about what they are doing by saying, "Tell me about this." By drawing them into a conversation, we give them a chance to express themselves in words as well as pictures. Giving kids the opportunity to play with colors and paper is a way for them to communicate their feelings and thoughts during a busy, eventful time. Could this draw and color holiday fun be your child's play-of-the-day?