Today's post is about go wild for nature picnics. What a wonderful way for both kids and adults to pause, look around, and nourish the senses and the body. The sun was urging us to come out and play so we packed a lunch and went outside.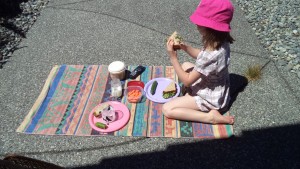 Children's pace to do things is different from adults; kids seem to have the two ends,  super fast and dawdle but not medium.  Our agendas can be quite different, even doing the same activity. The kids reminded me of this on our picnic.
Once we had spread out the towels and served the food onto plates, I expected them to have a few bites and rush off. Instead, they did have two or three but paused to simply look and listen. They checked the sky to see the few wispy clouds. After another couple of bites, took a break again to listen to the birds. Then, the distraction was the breeze. Just half a sandwich seemed to take so much time.
The whole intention was connecting to nature and I was the one anxious to finish lunch. I let go of my expectations and settled down to enjoy the sound, sight, and feel of nature as well as the meal.
After our lunch, it was almost as if we had two helpings of dessert. We stretched out in the sun on the big towel. After a few minutes, the kids moved over to look for rocks with unusual markings  like a line all the way around, a different color, or a pattern. This is a sign of fairies.
The lesson to the adult from the children is that nature is not a separate activity, rather,  it is part of the whole. For them, nature was another ingredient in the sandwich. Nor are we separated from nature.
Our picnic lunch had much food for thought. Can you and your child have some go wild for nature picnics?
P.S. You are invited to post pictures of picnics on 123's Facebook page.