The day after Labor Day usually means back to routines. Did you know routines help young children, despite our adult unfavorable opinion of routines?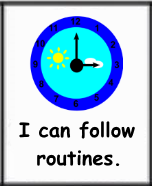 For children, a routine is a sort of security blanket. While they can't see or feel it, they can use it to feel more comfortable. A routine is quite dependable and helps kids feel more confident about handling the day.
Both kids and adults like having an idea about what we are likely to encounter. That way, we have some degree of control and can prepare ourselves instead of everything being a surprise. Dealing with constant newness is not just challenging, it's stressful.
Adults aren't the only ones affected by stress. Anxiety affects almost one in four children. There might be something happening in a day that we don't like, but at least we can prepare for it. Some kids would rather be at home than at school or daycare, but a routine helps. They may start out pretty unhappy but usually the tears stop falling. Eventually, at the end of the day someone will come and get them.
A typical routine is getting up and ready for the day, time at home or in a program to play with others, regular snack and meal times, outside fun, and then winding up the day, preparing for the next, and an appropriate and consistent bedtime.
There are some resources you can use to establish routines. Clocks with pictures give kids clues about the very basic sleep-awake cycle. Stories and books are encourage acceptance of routines. For kids that are sleepy and grumpy in the morning, share "The Morning Grumblies: A Book About Waking up Grumpy" by Beau Blackwell. Anna Dewdney writes about wiggles and shakes to start the day in "Llama llama, wakey wakey." You may want to find pictures on line and make a plan for the day in pictures.
Routines not only support our biological clocks and lessen anxiety, they can affect our emotions, success with learning, and relationships. Growth hormone is secreted during sleep when the body can divert energy from "maintaining wakefulness and activity levels, to the function of growth." Clocks have hands—well, at least they used to. In a way, routines are the hands for the day, pointing us in the right direction at the right time. Routines help young children, and grownups. Maybe they aren't so bad, after all?
For the rest of the pictures, check the Before I Go to Kindergarten post.
FREE ONLINE COURSE
Enroll in this free online course, Brain Power and Play for Young Children, to learn how to boost your child's brain power before kindergarten!