Helping your child with kindergarten readiness doesn't have to be a puzzle. But puzzles can help with developing skills and brain connections.
Usually puzzles are wood or thick paper pieces with an unlimited variety of pictures. As your child puzzles out how the pieces fit together s/he is practicing: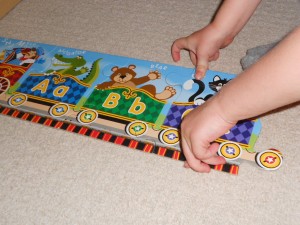 sequencing, patterning, visualizing and visual perception,
problem-solving, fine motor coordination, comparing, matching, reasoning
figure-ground awareness, goal-setting (finishing the puzzle,) perseverance
part-to-whole relationships, emotional control and regulation
memory, attention and focusing, patience, and language stimulation
This is just a part of the early learning and fun.
Hands aren't the only things figuring out how things connect, so do brains. Puzzles or very young children start with only a few pieces and some have knobs on major pieces. More challenging puzzles can include dozens or even hundreds of pieces. This puzzle also encourages learning the alphabet. Playing and learning with puzzles is another great hand learning activity; do you agree?