I love getting pats on the back, stickers, and gold stars. These are a few comments on cards, pictures and letters, and they are from students, parents, caregivers, colleagues, guests on my radio show, and clients. You are welcome to leave yours. And your suggestions for improvement. That sort of feedback is also important because it can only make what I do even better.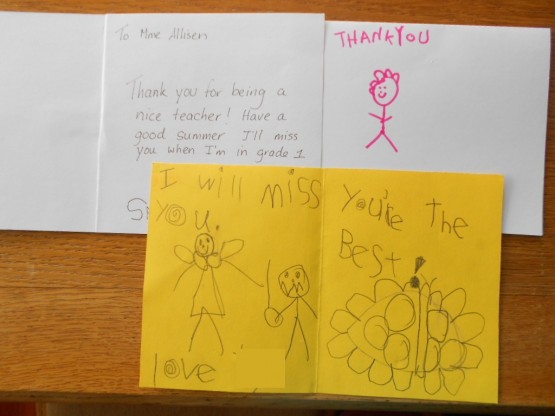 (To protect the children, I have covered the names or used different ones. To some of my students, now in high school, having a quote from a teacher on the web is almost as embarrassing as having a baby picture.)
I don't really want to make anyone cry, but when I have to say good-bye I sometimes feel like this too:
Thank you for a wonderful year! Ishanna really enjoyed herself – she was so sad to realize that kindergarten was ending that she cried. But she is very excited about Grade One. We hope you have a great summer! (signed mom, dad, and daughter)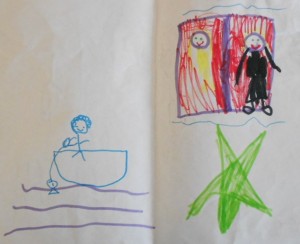 Stars can be green instead of gold or silver–or any color of the rainbow.
In case you can't tell, that's me in the black dress and a kidlet sitting on the rug.
On the other side, this student drew what I should do over summer vacation, go fishing!
This note is from the staff and parents of a school where I gave a Ready for Kindergarten presentation:
Barbara, we all wanted to say a big "Thank You" for the presentation you put together. The parents really enjoyed it and took away a lot of very useful information. We appreciate your time and you sharing your knowledge with us. Thank You, L– and The Staff and Parents of S—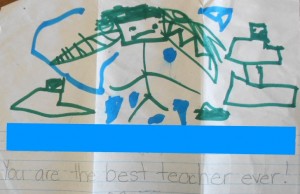 Days can be full of sad feelings too, but the message is wonderful. My fridge has layers of art work! I've also saved pictures that kids have drawn in scrapbooks. That's such a great way to save things and it's so much fun to go back and "read" them all, like this one: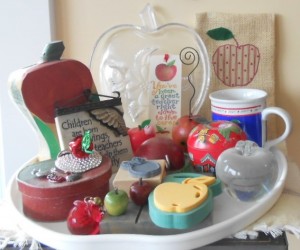 One day, I had a quick note from a parent after we'd tried some float-sink science fun with apples:
Thank you for the look of surprise on M's face when he saw the apple float.
And these are just some of the apples from students …
A home-school parent on my radio show, Learn and Play with Mrs. A, wrote:
I so thoroughly enjoyed our time together today! You are an ideal hostess!….You are a joy, and I so value your work.
I have taught over a thousand students since I first started and have stacks more cards, letters and drawings. I will admit, though, that even had I saved them all it would not represent every single child because unhappy parents and kids wouldn't necessarily send thank you notes. |Fortunately, only a handful have been dissatisfied and I'm confident I get more than a passing grade. I love being connected to so many people and hearing voices that tower above me saying, "Hey, do you remember me? You taught me in kindergarten!" And now, I get to hear voices from all over the world that support how I'm reaching out to parents and caregivers as we help children to be powerful learners.
I'd love to hear your voice. Pop over to the contact page and get it touch >>>>>
It's multiple choice and you CAN choose all of the above!