To finish off this 'go wild for nature' series, how about having the ultimate nature adventure? Camping for kids is a great way for connecting to nature.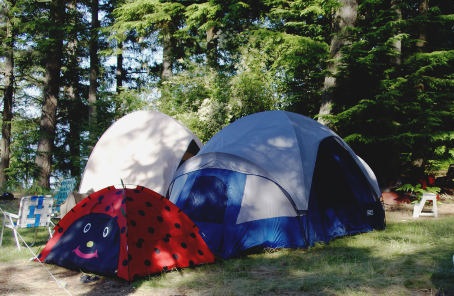 Your camping trip doesn't have to be in a wild, isolated region. It can be right in your local area and even in the backyard. Adults often need to get farther away than kids do to put some distance between play and work. While screens and phones can be packed along with the tent and sleeping bags, getting away from somewhere familiar adds some miles in the mind. For kids, sometimes the biggest challenge is being unplugged from their regular bed. Maybe instead of having to decide close or farther away, you can do more than one.
No matter where you go, nature will be closer. The open spaces invite kids to come outside. There are places to explore and discoveries to make, grass to roll in or trees to climb. Sometimes, camping might be near water, from small ponds to ocean beaches. Certainly, there is lots of stimulation for the senses. So many new things to see, hear, and touch, mean new words and experiences to add to kids' brain banks. The same foods can taste different outdoors, and if they are cooked on a campfire, they don't smell the same either. Will smokey dogs and s'mores be on the menu?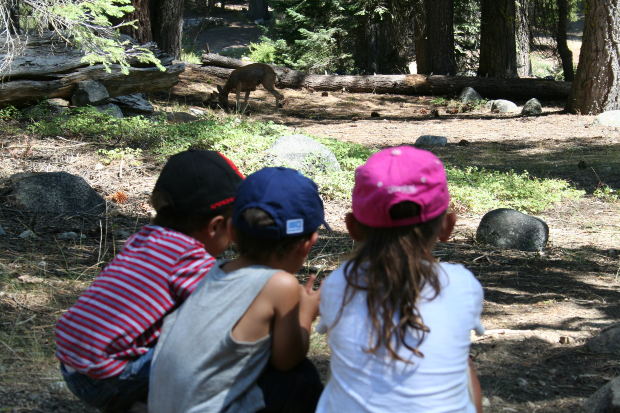 These close encounters of the nature kind, teach both kids and adults to manage new risks. The challenges of nature mean we can 't take safety for granted. Camping means not just a day outside but a night too. What a marvelous opportunity to watch the night sky and see the stars. The dark and unfamiliar noises can be scary for young children, especially after any ghost stories.
Most days, nature time is for minutes, or only a couple of hours. A camping trip gives all of us time and space to connect with nature, and with each other. No matter if it's near or far, will your family go camping?