Today is Outdoor Classroom Day all around the world because kids need to play and learn outdoors! Over one million children, in more than 52 countries, and almost 10,000 schools are involved so far. But they don't have to be in school to have fun outside. You can do this at home or at a care center.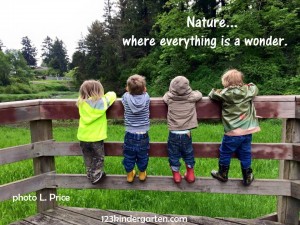 Being outside has tremendous benefits. "Learning outdoors creates lasting memories, helps build a greater awareness of the environment, provides more opportunities to think independently, and gets children feeling challenged and excited by learning. Children are more active when they play outdoors. It is essential for their healthy development and enjoyment of childhood." (Outdoor Classroom Day)
Following are some ideas for outside play:
Take a hike. This can be as short as down the street or a long walk in a park. Instead of a walk, it could be a bike ride or a scooter one. Sometimes, kids like to pull stuffies in a wagon.
If you are at a park, kids can kick a ball, run around, and roll down a hill.
Either you or the kids can blow bubbles and chase them around the yard.
Hunt for some nature treasures like rocks, flowers, pine cones, leaves, twigs, and berries. These can be made into a fairy soup.
Draw a hopscotch on the sidewalk or find one in a playground.
Swing, slide, and climb at the playground too.
Play in the dirt. Or the rocks, or puddles.
Fly a kite. Check the internet for some super easy ones you can make at home.
If it's warm enough, turn on the sprinkler and let kids run thru it. This appeals to kids of all ages, and grownups too.
Have a race with your shadows. Who will win? Do you ever catch up to your shadow?
Look for critters hiding in the grass or under rocks and logs.
Not only are there benefits for being outside now, but also far into the future. "Children who have the freedom to play today—making friends, getting lost in the moment, having fun—are better prepared for whatever tomorrow throws at them. Playing helps children build friendships, test their own boundaries and solove their own problems."   (Outdoor Classroom Day)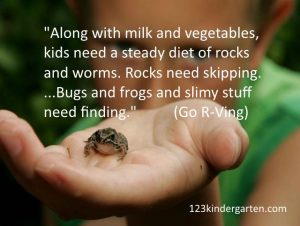 This doesn't only help them enjoy childhood but life. Kids need to play and learn outdoors, and so do we. Will outside play be a play-of-the-day at your house or early care center?