Today's blog post is going to give some answers to the question "How can celebrating and having fun at Easter time support readiness for kindergarten?" At kindergarten, kids are part of a social group so learning and practicing social skills before they arrive really helps for kindergarten readiness.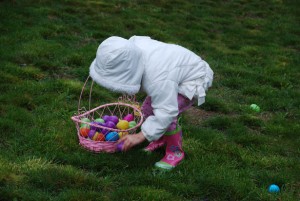 One set of skills involves learning how to wait. Kids have been seeing lots of reminders that Easter is coming but they still have to wait for the day to arrive before they go on an Easter egg hunt. Another important lesson is learning to share. This doesn't mean they have to share the ears of their chocolate bunny with an older sister who doesn't get a basket anymore (!!) but there will be other sharing opportunities. Celebrating together with family and friends helps children learn how to be part of a group: greeting each other, having a conversation, exchanging ideas, and more. Even putting on special clothes signals to children that there is something different happening from the ordinary. That, too, is an opportunity for learning as children figure out the signs
and the clues for special situations. These are only a few, there's more to learn.
Do you agree that Easter has a basket full of learning for kids?