Last week, I was able to attend the World Forum in Early Care and Education with over 800 delegates from 73 countries around the world. One of this year's themes was helping children establish and maintain their connection to nature. Many of the presenters spoke of the the ongoing challenge and others highlighted successful programs in the mission to bring nature and children together.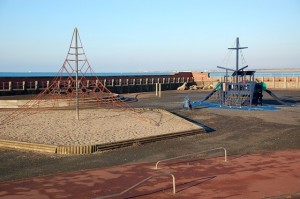 While parks and playgrounds are not untamed wilderness, they are outside and accessible for families and care centers. The sun, grass, dirt and water, from puddles to ponds, appeal to little ones. There is an increased need for supervision but  kids benefit from time outside and learn in their own way. Developing a healthy connection to nature is more than just kindergarten readiness. Remember, today's kids will be making critical decisions that affect our natural world before very long.
Weekends sometimes have more time than weekdays, so if you can, take your child outside to play in the sand, run in the grass, or splash in the puddles, knowing that you are also building readiness for kindergarten and the future. Talk about a sandbox! Doesn't this extra big one in Prestwick, UK, look like huge fun?