Did you know that the kitchen doubles as a learning center when it comes to readiness for kindergarten? There's so much that parents and caregivers can teach even if they are busy cooking, doing dishes, or just putting away the groceries. And little ones can help with these tasks learning valuable skills for kindergarten readiness and beyond.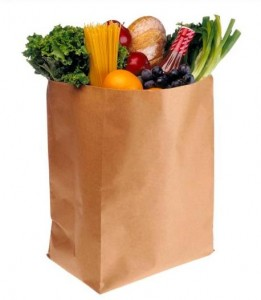 Learning to be organized is not a subject taught at school but being disorganized can affect more than report cards. Most kids feel a sense of accomplishment and pride in their work, but how well they do can depend on some key organization factors such as finding what they need at the right time, putting similar things together and others. Helping to put away the groceries is one way to practice organizing skills. Even little ones can do part of the task, such as taking a few apples to the fridge or a box of cereal to the cupboard. (A word of caution: tinned items can be heavy and a tin dropped on a toe may cause the nail to turn all black and fall off. In our house I think it was our son who got an " apple-tin toe".) While doing this, kids learn that everything has a specific place and is grouped with other things.
Unpacking the groceries is not exactly a fun task so it could use a laugh or two, like asking your child to put the box of cereal in the dishcloth drawer or the paper towels in the fridge. Kids think it's very silly and love to giggle. Just don't tell any jokes to the eggs–they might crack up. This learning activity needs no extra minutes and is much more than readiness for kindergarten.