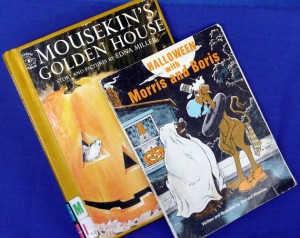 Now that we're closer to Halloween it's probably okay to start talking about how pumpkins can be jack-o-lanterns. Although kids have been seeing lots of them for days already, earlier blog posts talked about them as another sign of fall. At this time of year, I love to read two favorite stories. One of them is almost fifty years old but still magical–Mousekin's Golden House, by Edna Miller. The second, almost as old, is a very funny explanation of Halloween traditions with a moose and a bear–Halloween with Morris and Boris by Bernard Wiseman. There are other great Halloween books. There's a vast selection of newer ones for very young and older kids, too. Choose some to read to your child.
Sharing and reading stories and books is a real treat for little ones and is one of the most important readiness for kindergarten activities. Because books are a concentrated form of language, they are ideal for stimulating language and much of our learning during our entire lives is done thru language. Check out these statistics.
In a National Institute for Literacy study, kindergartners who were read to 3 times a week had almost twice as much likelihood of scoring in the top quarter of the class.
Reading 3 stories a day to a child over the course of a year adds up to over 1,000 stories. By the time a child arrives at school at the age of 5, those 3 stories a day add up to over 5,000!
Books and stories are a kindergarten readiness treat. What are your favorite Halloween stories?