During the first two weeks of this month, I showed how toys and play can help children with all kinds of learning and readiness for kindergarten. Since there's 5 posts left this week, that seems just right for exploring the 5 senses. Christmas is a feast for the 5 senses and appeals to the child in all of us.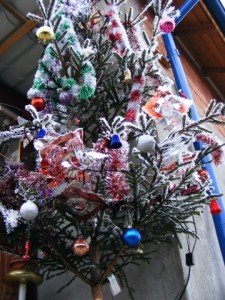 The holiday season is a visual treat. There is so much to see. When you are out with your child check out the shapes of things and their colors. Shapes are fairly straightforward to learn, but not colors. There are so many variations for each one. Many kindergarten readiness checklists include being able to identify colors because this gives an idea of a child's level of thinking skills. For babies, just focusing on one object can be a challenge, especially if it is moving. Older kids may be able to pick out patterns in holiday decorations and lights: red-green; red-green; red–hey, why are there 2 reds? Oh, oh–a green light burned out. Are there letters and numbers? Some things are big, like trees, and some are so little, like snowflakes.
At home, there's lots to see, as well. What shapes are the packages and decorations on your tree? Is there something new to see that wasn't there before? Think of some ways that you can talk about all the things to see with your little one. You might want to play I Spy. Dimming the lights turns the darkness into magic.
Can you suggest some other activities to light up your child's visual learning?