Why, when babies try and taste everything, is it so hard just a couple of years later to get kids to eat? All our senses help us to interact with our world. In kids, senses are a major source of information for learning. The brain connections that children make when they are so young help them later on. Preschool and kindergarten programs will include discovering about the 5 senses but there's lots of learning that can happen before then and will encourage readiness for kindergarten.
Learning about the sense of taste is easy to do at home. For some reason, kids often want to eat when it is not meal time, so for snack set out some very small bites of things for them to try. Talking about what they are tasting and if they liked it or not will expand their language. Color and smell are also involved in tasting. You can ask your little one if changing the color would make something taste better.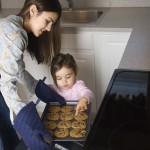 If you have more time on the weekend, you and your child might like to tackle a baking project. Especially this time of year, when there are lots of goodies to bake and taste. Families often have their own preferences and special holiday treats but cookies or bars are usually fairly doable. More than just promoting kindergarten readiness, exploring the sense of taste allows us to better enjoy our world. What treats do you like to bake with your child?