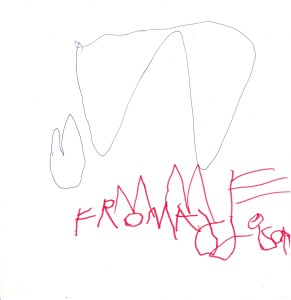 While learning the letters of the alphabet is not a requirement for all kindergarten programs, some familiarity and letter knowledge will help every child when it comes to basic kindergarten readiness. Motivating a young child to practice printing letters of the alphabet can be quite tricky. Printing is not an easy activity for kids–the necessary muscles and coordination for such fine motor control are still growing. Small muscle development is very much at the early stage for young children. We can spark kids interest and help them practice and develop control with activities that have a little challenge and a big appeal. What can have more appeal than adding their very own creation–in either letters or drawings–to holiday messages?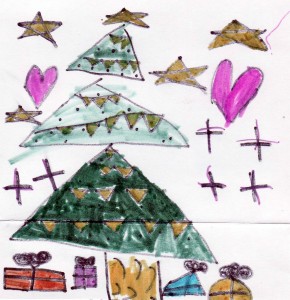 Do you need some placecards for a holiday meal? Are you sending any greetings in the mail to families and friends? A few colors, some paper and a space to work in and kids will eagerly contribute. In addition to helping develop small muscle skills, having kids "write" also helps them develop the the understanding that images on paper have meaning, which is a basic concept for both reading and writing. Drawing and coloring encourages readiness for kindergarten. Some sticky contact paper over a favorite drawing turns it into a placemat or special gift and will protect it for years to come. Do you see their little faces light up with pride and joy in their work?
P.S. Visit this site for some holiday placecards:
http://drawmealion.blogspot.com/2011/12/draw-me-lion-holiday-gift-tags-for-you.html
FREE ONLINE COURSE
Enroll in this free online course, Brain Power and Play for Young Children, to learn how to boost your child's brain power before kindergarten!