Blog posts this month have been about supporting kids as they learn and develop number sense. Last Friday was Family Literacy Day so the timing was just right to find this post from the site PreK and K Sharing on How Parents Can Integrate Math With Reading. Danny Brassell suggests some super books that cover lots of different math and learning ideas. Here is a quote:
Of course, there are tons of great math books available to parents, dealing with concepts like patterns and shapes, operations and equations, time, fractions, problem solving – anything. Librarians and book geeks like me can help you with titles. Your responsibility is to sit with your child and introduce them to an exciting world of mathematical possibilities with great books.
Here is the link to the whole article :  http://prekandksharing.blogspot.com/2012/01/how-parents-can-integrate-math-with.html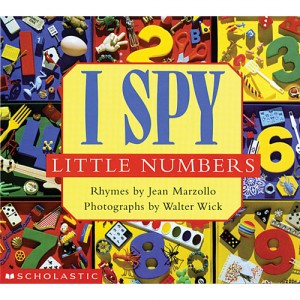 There are lots of other great books too. If your child has a particular interest, such as dinosaurs, robots, animals, bugs, oceans, etc you will very likely be able to find a number book about that topic and some on shapes and sizes, as well. Books may also talk about other math ideas such as patterns, sorting or grouping. These are all helpful for readiness for kindergarten. Can you spy a number book?
Books and stories about math are 2 for 1 when it comes to learning and kindergarten readiness–premath and prereading at the same time. What are some of your child's favorite books and stories that help support math?