The Shape of Me and Other Stuff by Dr. Seuss talks about shapes. Evaluations for kindergarten readiness sometimes check if children have a basic understanding of shapes, not because it is fundamental knowledge but it gives an idea of the level of children's learning. For instance, shapes belong together in a group so can be used to tell if a child can categorize using similarities and differences. Like so many other readiness for kindergarten concepts, the key to learning shapes is exploration and repetition. Check out some of the shapes in this Dr. Seuss book. Are there some round circles? Look for some pointy triangle shapes. The book is a rectangle shape. What shapes are you?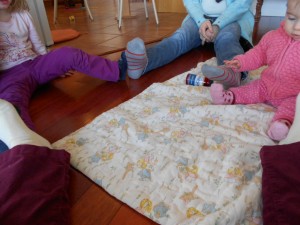 Or should that be what shape are you in? The different meanings for the word shape and the play on words is a great reminder that kids (and adults) need to play. For some playtime today, exercise the body in different shapes: make circles with different parts of the body, bend arms and legs like triangles, stand and stretch into a long rectangle shape. Your child may want to make some shapes with others, too. Lots of feet can make a circle!
There is no doubt kids like to be active. It helps them stay in shape. What shape fun will your little one have with Dr. Seuss?