Do you sometimes wonder where to start when it comes to kindergarten readiness? how to decide what to do and when to do it? For kindergarten, I sometimes recommend the 3 R's: relationships, routine and repetition. In their new book, The Whole-Brain Child, parenting expert Tina Payne Bryson and Dan Siegel write "…we are hardwired for play and exploration as well as for joining with one another." The importance of relationships is built into brains!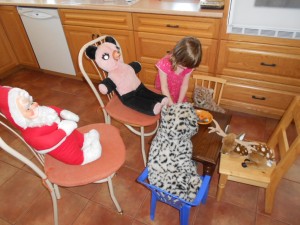 This means that providing opportunities for your child to play with friends, family and you is one way to prepare your child for school and beyond. Are there some community programs in your area such as library story-telling or recreation activities for parent and tot? Sometimes, there are playground groups or you may want to informally join with other families. Play-dates can be organized around parent and care-giver work schedules. Children also need to be included, where they can, in tackling the family's work-tasks. Read books and share stories that talk about friends, family and feelings. Include some stuffies and dolls in the toy box for both girls and boys so kids can explore relating.
One of my favorite quotes in my book, 1 2 3 Kindergarten Readiness, Everything Your Child Needs To Learn Before Kindergarten, is this one from Aristotle: Educating the mind without educating the heart is no education at all. Playing and working with others can be considered as both heart and brain development. Social and emotional growth is part of the kindergarten readiness package. Is this something that is doable for you?