I've been counting down 3-2-1 to do this special July 4th kindergarten readiness activity. (Mostly because I had an earlier taste on July 1st. Why celebrate once when you can do it twice?) To celebrate July 4th here is a red, white, and blue dessert pizza! This cooking with kids activity is sweet and easy.
Just like before, with some little hands to help, we washed some blueberries and sliced some strawberries. Instead of the cream cheese suggested, we tried spreading a fairly thick layer of creamy Greek yogurt on a cooked and cooled pizza shell and topping it with strawberries and blueberries. In case you can't tell, the blueberries are in a star pattern filled in with strawberries. Yummy! (although it was a bit chewy and the blueberries rolled off)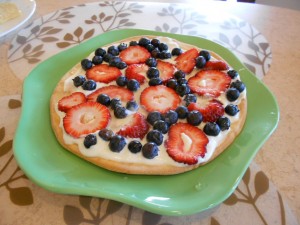 Did you know that your house has children's very first classroom? It's called The Kitchen.  There's so much learning that happens there:
measuring, counting, matching and other math skills
science skills such as observing, predicting, or how change can be reversible or non-reversible: cut strawberries can't be put back together but yogurt can be spread out and piled up over and over
social skills such as cooperation, sharing, taking turns, waiting
using language for instructions, reading a recipe, picture clues, colors
safe use of tools, healthy eating and these are only a few.
To parents and caregivers south of the 49th, Happy July 4th.   How will you celebrate all the fun and learning?