Parents and caregivers often ask what young children need to know before kindergarten; this is the 22nd in a series of blog posts on kindergarten readiness and early learning basics. No matter the age of your little one, this will give you a general picture of what to do as your child's very first teacher.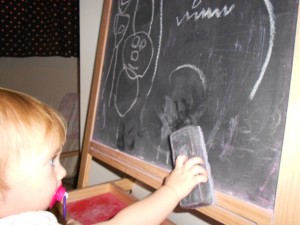 A kindergarten readiness and early learning activity that kids can do at home before coming to kindergarten or preschool is to have fun experimenting with tools such as paper, crayons, scissors, paints, erasers, and glue. Little hands need to develop their muscle strength and coordination and little people need to know these tools are fun, not scary.
Once you have crayon-proofed an area, let your child enjoy coloring with crayons, markers, and chalk. Big crayons are easier to hold than little ones. Brushes and paints are also fun as are color dabbers and even q-tips. Food coloring diluted with water is another way to apply color to paper. Speaking of paper, old wrapping paper is blank on one side and even cereal boxes are good and sturdy for coloring or gluing.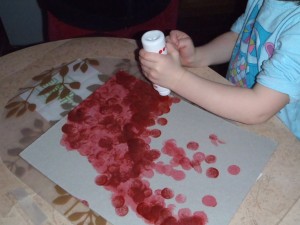 Glue comes white, clear, colored, premixed with sparkles, and even glow-in-the-dark, everything it seems but easy-close. Glue sticks and liquid glue both seem to have challenges with lids. With kids, sometimes the challenge is not to have more glue on them than the project, but kids often enjoy activities with glue.
Scissors are tricky to figure out. Did you know playdough is super easy to cut? Plus it can be put back together and used over and over. Playdough is another great learning tool. Rolling, smoothing,  and smooshing give small muscles lots of exercise.
In addition to the physical benefits of using learning tools, they also give children an opportunity to be creative. With crafts or other projects, kids get to think, plan and organize. They learn the vocabulary that relates to tools and have the chance to explain and tell about what they are doing. Some children are more interested in using tools than others, but having a variety of materials for them to explore makes them more appealing. Do you have some learning tools for your child's learning and play?