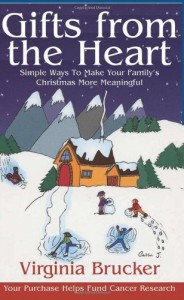 In a way, a preschool or a kindergarten is a child's first community and sharing and giving are an important part of kindergarten readiness social skills, too. Learning about sharing and giving is an important part of Christmas and practicing now helps children develop a sense of community and connections to others.
In her wonderful book, Gifts From The Heart, Virgina Brucker writes "Children love to give….Young children enjoy sharing." She suggests some simple activities that kids can do for others. Sometimes, children will even have their own ideas, but here a few: collecting change in a "giving jar", decorating a box for the local food bank and choosing some items to put in it after grocery shopping, dropping off coats that are too small at a local shelter, and picking out a toy to give to the local toy drive.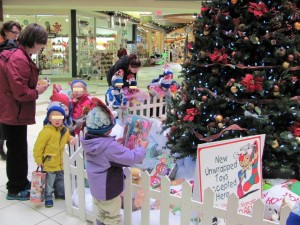 Children can also make or do things that bring a smile to others such as a handmade gift or tree decoration for seniors or family members, coloring some paper placemats to go to a seniors' home or meals on wheels program, and helping to bake and decorate treats for bake sales.
Some preschool or kindergarten programs may be able to sing for seniors who always love hearing those wonderful little voices. This is not always appropriate for younger toddlers who feel insecure around unfamiliar faces.
Virgina Brucker was a guest on a recent Learn and Play radio show and had many other ideas for creating meaningful holidays from the heart. The Grinch learns how holidays can touch the heart and make it grow. Yes, holidays are days off from school, and Yes, Yes! they have special opportunities for all kinds of learning. To quote Aristotle: Educating the mind without educating the heart is no education at all. What activities happen in your family to help your child's heart learn and develop, too?