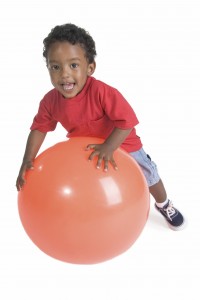 Kindergarten readiness can be part of the game anytime and anywhere, including at the Super Bowl. With the big game tomorrow will your family be watching?
Balls that are football-shapes are quite tricky for little hands; round ones are easier and can be various sizes. At the park, or just in the backyard, grownups and kids can play catch. Throw and catch sounds like a simple game, but there's lots of different kinds of learning.
The my-turn then your-turn helps kids practice this important social skill.
The two actions of catching and throwing form a pattern and patterning is a critical learning strategy.
Back and forth is very similar to give and take, which is the basis of relationships.
Plus, there's eye-hand coordination, and exercise for muscles.
Having fun, and playing throw and catch, connects kids to adults, and kids to outside.
What other Super Bowl fun and learning can you and your child have?