Encouraging your toddler's early learning or preschooler's kindergarten readiness can be as easy as opening a drawer in your kitchen. Having a drawer with plastic containers and safe tools gives your child something to play with while you are busy.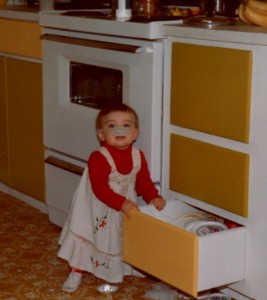 The crawlers discover how they can take everything out of the drawer. Small containers will fit inside big ones, and if you are lucky, everything will fit back in the drawer. Toddlers like to imitate adult actions such as stirring or lifting. They will line up the containers, try the lids, roll them, pile them up, put things in them, and clap them together. It's fun just to try carrying a few.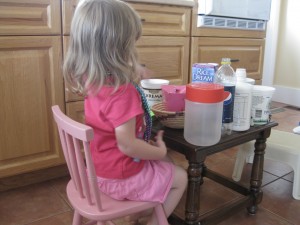 Children love to pretend and will use containers to  imagine and create. They could be used to make a restaurant, kitchen, space station, picnic, and more. Older children can get very creative when it comes to using containers for construction. Add in some of the plastics in the recycling bin for some additional, no-cost toys.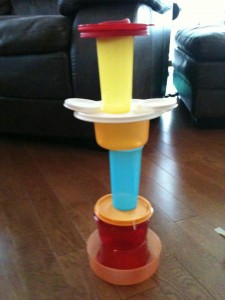 Children can play and learn with anything, even plastic containers. Different thinking skills are used such as problem-solving, pretending, cause and effect, creating, observing, questioning, and spatial awareness, to name just a few. Because plastic containers are not toys, there are no "rules" about how to use them, unless children make up their own games as they play. Do you have a space in your kitchen for some plastic container play?