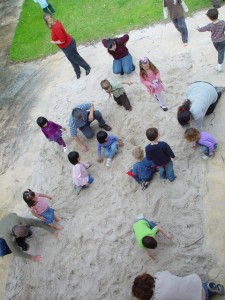 For how many people playing in this sandbox would kindergarten readiness be relevant? Quite likely less than half. But it sure looks like everyone is having fun, kids of various ages and grownups, and no doubt there's learning too. There are no shovels, pails, and other toys for scooping, piling, sifting, and pouring but there are lots of hands in the sand. While the people may be digging and trying to find something, this is a great picture of sensory play. The feel of the sand will give lots of touch stimulation to hands and feet. Sand will even tickle the toes of those in bare feet.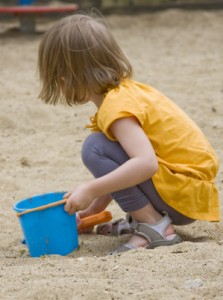 As the previous picture shows, a sand box can fit lots of people. But it can also be fun for just one. Besides pails and shovels, kids can use spoons, sifters, cups, plastic bottles, cars and trucks, and diggers with zig-zag edges for making patterns in the sand. A little bit of water makes it just right for patting into different shapes and building. As kids play, their brains make all kinds of connections for how sand pours, makes a cone shape, spills over the side for a full container, falls through holes in a sifter, feels heavy when there's lots of it together, and more. To someone watching, kids may look like they are doing the same thing over and over, but that's part of the learning, predicting what will happen and checking to make sure.
Pretending and imagining can happen in a sandbox. The  space may be a kitchen, a castle, outer space, or an ancient time of dinosaurs. Kids can create art as they make all kinds of lines and pictures in the sand. While an outdoor sandbox is wonderful, even a plastic container of sand on a balcony or deck can be a source of stimulation for kids. Sand is a terrific material for sensory play, fun, and learning. Is there a place where your child can play in the sand?