One of the most important activities that parents and caregivers can do to support children's learning is to read books and share stories. Did you know that reading 3 or 4 a day, a few times a week adds up to about a thousand in just one year? That makes a tremendous number of brain connections and pathways that kids will use later for the challenge of learning to read. Since this month's blog posts are about playground fun and learning, here is a book that also uses some great ideas for movement activities on the playground.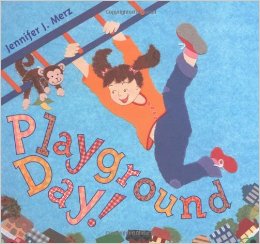 The book Playground Day by Jennifer Merz is the story of a little girl who takes a wagonload of stuffed animals to the playground. There, the little girl plays like her animals: the squirrel hides, the monkey climbs and penguin slides. The text is another form of play, this time with words that rhyme.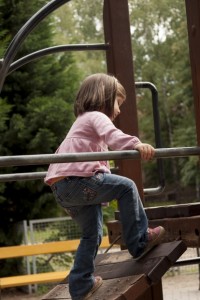 After reading the book with kids, it's fun to go out to the playground and act out the story. A frog or bunny would hop all over the playground. Horses can run and gallop and wear off lots of energy. Pretend dogs might bury pretend bones in the sandbox. Why are monkey bars called monkey bars? Must be for the climbing and swinging. Birds swoosh up into the sky. Swinging can feel like that. Cats might just sit and relax in the sun. Kids and grownups can relax in the sun too. Maybe, you can take a book along to the playground too?