Pirates collect treasures and to kids practically anything can be a treasure. Making a collection can be a fun learning and kindergarten readiness activity. Treasure for a child to collect might be rocks, shells, driftwood, sticks, wrappers, shiny foil, pine cones, buttons, stickers, and other items. Some are more collectable than others.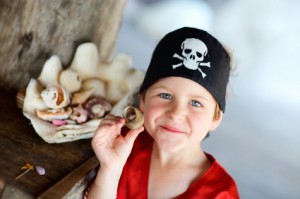 When children make a collection, they kids practice paying attention to what they see and learn to search for their particular items. They check the characteristics of things they find to see if they would match their collection items or not. Sometimes, kids have to choose among objects because they can not collect it all. We all need to practice making decisions and this is especially true for young children. Vocabulary, explaining, organizing, displaying, counting, categorizing, grouping, deciding, etc are just some of the kindergarten readiness and life-long skills that kids develop.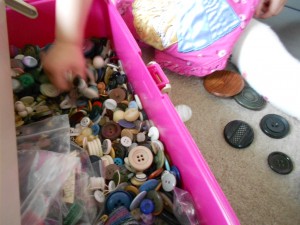 To store collections, egg cartons or shoe boxes are useful. A fishing tackle box is storing this collection of buttons that has been contributed to by four generations of family members! Some collections have a 'best-before' date and a collection of socks under the bed doesn't count. For collections that are eating up storage space, some problem-solving may be needed. That's another important thinking skill.
Creating a collection when young, may be an interest that continues as a child grows. How many scientists started out collecting rocks or bugs? Sometimes collections do turn into real treasures. Does your child have a special collection?