The first day of school is the beginning of many different connections; kindergarten in 2013, graduation in 2026! Some children who start kindergarten this year may have been going to daycare and preschool for years, but kindergarten is still a big step. Children will be in larger groups with more children all the same age and, unfortunately, much fewer adults. Many of the children will be unfamiliar. All this means that kids will need to create new social connections.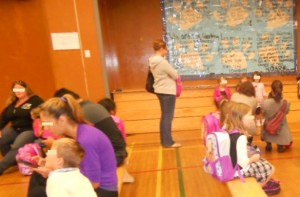 Not only will the children need to create new friendships, but so will the family. Some of the children who start this year with your son or daughter will still be there at graduation. The group of kids, parents and caregivers make a new "school family". So that your child feels comfortable and confident with classmates, it's helpful to get to know the other parents so that kids can share playdates outside of school. Just think how many birthdays there will be in class of 20 or more kids for the next 13 years!
Getting to know the other parents also establishes a network for you. There may be times in the future when you will need someone to take your child to or from school, or simply to share the time and place. The upcoming years of school will bring changes and challenges and the support of the "school family" will be needed. The first day of school isn't just for the kids, it's the start of some new connections for the family. Did you and your child make some new connections today?