Besides kindergarten readiness, learning, and fun, who knows where play can lead? Art activities can be the beginnings of an artist! A guest on one of my Learn and Play with Mrs. A radio shows, MaryAnn Kohl, is an artist and has written dozens of books on all kinds of play activities. She really has never stopped playing and gives awesome presentations on art and play! She shared the story that about the age of 2, using crayons in both hands, she drew big circles on the wall above her bed. When her mother came in, MaryAnn thought she might be in trouble but her mother just told her to use paper the next time. She remembers art activities being her favorite, but considered lots of different kinds of play as art, even building forts.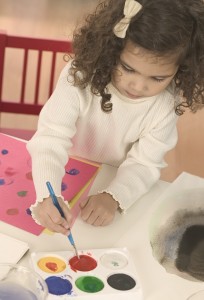 Kids love to create art. Besides the fridge, there are other homes where art is displayed on the walls.  Here are just a few great reasons for an art play-of-the-day.
Art is another way to communicate and to express feelings and emotions.
As children concentrate, they are practicing focusing skills and stretching their attention spans.
Manipulating art materials helps develop small muscles and eye-hand coordination. Just think of the work-out that hands get cutting, gluing, coloring, pressing, drawing, scrunching, pulling, and more.
There's all kinds of problem-solving: what to do next, where to put something, how to use materials, and, of course, what happens if…followed by fixing or cleaning up materials and messes.
Kids get to use their imaginations as they create and explore and connect with others, talking and interacting to support the development of social skills like sharing and taking turns.
Materials for art can be paint, colors, glue, string, paper, playdough, glitter, buttons, popsicle sticks, mud, rocks, chalk, stickers, stamps, styrofoam trays, pasta, bottle caps, coffee filters, and almost anything. Not only with anything, art can happen practically anywhere: on the sidewalk, at the table, on the floor, in the mud, on the fence, or in the bathtub.
Maybe art play today will become an art career in the future?
FREE ONLINE COURSE
Enroll in this free online course, Brain Power and Play for Young Children, to learn how to boost your child's brain power before kindergarten!