Did your family get to watch a parade this weekend? Many communities had their own parades this weekend, plus there were some on tv, so a play-of-the-day idea for fun, learning, and kindergarten readiness could be having a parade. A parade can be inside or outside, depending on the weather and parades are appropriate for kids of various ages. Besides marching around, dressing up in costumes and using some items to make noise music adds to the fun and learning.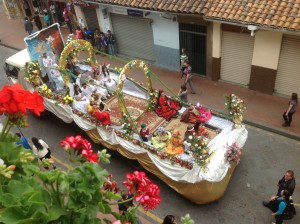 Costumes for a parade can be as handy as a few clothes for dressing up. Since this is a winter parade, try a big white shirt to make a snowman. Reindeer only need to wear some paper antlers and clowns red noses; toy soldiers need bigger hats and maybe red shirts. can be in the parade too. Dresses for princesses may need to be hiked up so they are not too long. A box covered in wrapping paper, with holes for arms, can be a walking present. Some items, like long scarves or old, costume jewelry may require extra supervision by adults and caregivers. For instruments, put a few items in a small plastic container to be shakers. Paper towel rolls can be horns. A wooden spoon and the lid of a pot are a quick drum.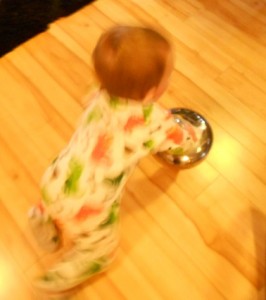 There's lots of learning in this activity. Rhythm and coordinating movement to a beat are physical skills that are developing in young children. Just marching left, right, left, right can be tricky, let along making sound on an instrument at the same time. A parade promotes sharing and cooperating strategies and, probably, some negotiating ones too. After all, not everyone can be first to lead the parade. A paper towel roll covered with foil can be the baton for leading the parade and kids can take turns. Think of all the imaginative and creative play involved in a pretend parade.
Usually, when just a few kids start to march around, others will be eager to join and the parade gets bigger and bigger. Though he isn't walking yet, the baby wanted to play too. What a fun way to start the holiday season!