Do you remember in All I Really Need to Know I Learned in Kindergarten where Robert Fulgham says "Warm cookies and cold milk are good for you?" Santa must have read that too because all over the world kids will be leaving milk and cookies. Here's a quick craft for both Santa and kindergarten readiness fun and learning.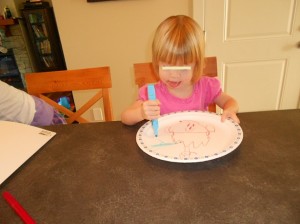 This week I saw a wonderful idea from Stephanie Haass at Two-daloo for a cookie plate for Santa. Both Big Sister and Little Sister drew on a paper plate, contributing as they were able. Big Sister carefully drew a picture of Santa so he would know it was his plate. Little Sister colored lines back and forth over the whole space.
Where does the kindergarten readiness come in? It's helpful for kids to have some experience using tools like crayons.  Coloring a plate for Santa gives kids an opportunity to use crayons or markers. Also, the scribbling of younger kids and the picture drawing of older ones are stages in learning to write. It was so interesting to see the scribble and the picture at the same time, reflecting the different stages of a two-year old and a five-year old.
There's also some learning with the cookies. How many cookies to leave for Santa can be considered a math problem. Kids get a chance to exercise problem-solving thinking skills. Is one enough? How many cookies would be too many?There might be some discussion about what kind of cookie to leave for Santa. Thinking about what other people might like is a form of empathy. Being able to see an issue from someone else's point of view takes lots of practice.
Math, social skills, problem-solving, early writing, and more learning are not obvious in this simple activity. Plus there's the fun of getting ready for Santa. Finally, finally it's almost Christmas. Do your kids leave cookies for Santa?
FREE ONLINE COURSE
Enroll in this free online course, Brain Power and Play for Young Children, to learn how to boost your child's brain power before kindergarten!