The weekend before Valentine's Day many young children will be printing their name on Valentine cards to exchange with friends at daycare or preschool. Doing cards helps with kindergarten readiness skills such as practicing writing names, using writing tools, the names of letters, and more. Sometimes, kids write left to right but not always. Preschoolers are often still learning that letters go in a line. When they run out of room, at the end of the space the letters can wrap around in any direction.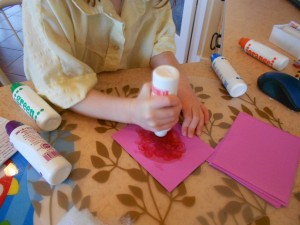 No matter which way kids write, Valentine's cards are usually the first 'mail' that they are sending and receiving themselves. If they know some of their friends names, they might be able to recognize and read them too. Valentine cards are more than just an exchange of greetings. They are a step into the world of reading and writing. Plus, giving cards to each other helps build relationships. Even babies are starting to learn about give and take and will play the game of giving something to us and then we give it back. This is a basic social skill that kids need to learn for school and life.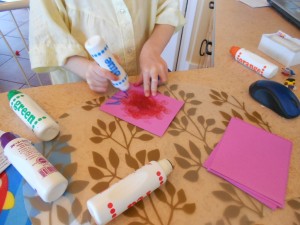 In a recent Learn and Play with Mrs A radio show with artist and art therapist, Karen Wallace, she explained that very young children begin scribbling and making marks about the age of a year and half old! For them, the interest is in what they are doing with their bodies rather than what's in the drawing. Toddlers become interested in naming what they create, and about the age of 3 or 4, kids are more eager to try and draw what something looks like. Many children love to explore what they can draw and paint and create with colors, shapes, and lines.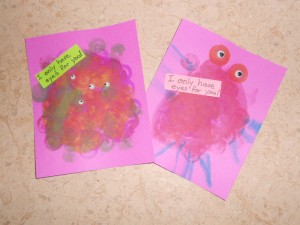 Tutus and Tea Parties had a really cut idea for making cards. Using paint dabbers, these monsters were lots of fun to do. We added some googly eyes because the monsters say "I only have EYES for you!" Kids can use any color, any shapes, and make as many lines as they want because monsters can have lots of eyes, arms, and legs. Do you have any other cute sayings or ideas for Valentine cards for kids?
FREE ONLINE COURSE
Enroll in this free online course, Brain Power and Play for Young Children, to learn how to boost your child's brain power before kindergarten!